Principal's Welcome

As Principal of St. Patrick's P.S. Magheralin, I take great pleasure in welcoming you to our website.
Our website is an extension of our desire to communicate information regarding school life to our pupils, parents, visitors and prospective pupils and their parents.
St. Patrick's is an all embracing school, which seeks to support, develop and extend the knowledge, skills and talents of all children. We are a professional and caring staff who hold the child at the centre of all that we do.
Our Inspection Report, published in January 2014, refers to our 'highly motivated children' and how the school 'is meeting very effectively, the educational and pastoral needs of the children'.
We are a 'Very Good' school and will continue to work hard for our pupils, parents and the wider community.
I hope that you enjoy your visit to this website, which shall be regularly updated with news and events. We will enjoy sharing some of the wonderful things that go on in St. Patrick's.

Thank you for visiting our website.
Mrs Marie McGrath
Principal
Inspection Report
In their report published in January 2014, ETI stated:
'In the areas inspected, the quality of education and pastoral care provided by this school is very good. The school is meeting very effectively the educational and pastoral needs of the children; and has demonstrated its capacity for sustained self-improvement.'
| | |
| --- | --- |
| Overall Performance Level | Very Good |
| Achievements and Standards | Very Good |
| Provision | Very Good |
| Leadership and Management | Very Good |
The School is not responsible for the content of external Internet sites. We recommend adult supervision for all links to external sites.
Our School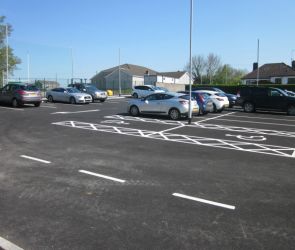 Upcoming Events
Monday, 24th January 2022
Relax Kids with Mary O'Connor (All classes for 8 weeks)
Evo Soccer After School (P2/3 class 2-3pm; P4/5 class 3-4pm)
Tuesday, 25th January 2022
Healthy Kidz After School Gaelic club (P1 - P3 2-3pm; P4 - P7 3-4pm)
Thursday, 27th January 2022
Healthy Kidz After School Sports Club (P1 - P3 2-3pm; P4 - P7 3-4pm)
Friday, 28th January 2022
Reception Class / Primary 1 Application process CLOSES at 12 noon for children to be admitted in September 2022
Monday, 31st January 2022
Relax Kids with Mary O'Connor (All classes for 8 weeks)
Evo Soccer After School (P2/3 class 2-3pm; P4/5 class 3-4pm)
Tuesday, 1st February 2022
Healthy Kidz After School Gaelic club (P1 - P3 2-3pm; P4 - P7 3-4pm)
Thursday, 3rd February 2022
Healthy Kidz After School Sports Club (P1 - P3 2-3pm; P4 - P7 3-4pm)
Monday, 7th February 2022
Relax Kids with Mary O'Connor (All classes for 8 weeks)
Evo Soccer After School (P2/3 class 2-3pm; P4/5 class 3-4pm)
Tuesday, 8th February 2022
Healthy Kidz After School Gaelic club (P1 - P3 2-3pm; P4 - P7 3-4pm)
Thursday, 10th February 2022
Healthy Kidz After School Sports Club (P1 - P3 2-3pm; P4 - P7 3-4pm)
Monday, 14th February 2022
School closed for half-term
Tuesday, 15th February 2022
School closed for half-term
Wednesday, 16th February 2022
School closed for half-term
Thursday, 17th February 2022
School closed for half-term
Friday, 18th February 2022
School closed for half-term
Monday, 21st February 2022
Relax Kids with Mary O'Connor (All classes for 8 weeks)
Evo Soccer After School (P2/3 class 2-3pm; P4/5 class 3-4pm)
Monday, 28th February 2022
Relax Kids with Mary O'Connor (All classes for 8 weeks)
Monday, 7th March 2022
Relax Kids with Mary O'Connor (All classes for 8 weeks)
Thursday, 17th March 2022
School closed for St. Patrick's Day
Friday, 18th March 2022
Staff Development Day
St Patrick's Primary School Magheralin,
12 Ballymacbredan Road, Magheralin,
Craigavon, County Armagh BT67 0QU
Tel: 028 3834 1400